Much of the pain from the Milwaukee Brewers' season coming to a halt in Game 7 of the NLCS has subsided. Brewers fans should be able to find solace in the fact that their team likely would not have been able to extend the World Series beyond the 5 games the Dodgers managed. Luckily, baseball is punched in 24/7/365. Unlike the other major professional sports, there exists no lame duck period between end-of-season and offseason in Major League Baseball. The split second Manny Machado swung and missed at a slider in the dirt, baseball's offseason had commenced, and we've already seen a few moves such as the Cardinals re-signing Adam Wainwright. It's very evident some marked improvement needs to occur to result in the Brewers reaching the pinnacle, but the window is fortunately wide open. A high percentage of such improvement in the Crew's deprived areas can come from in-house solutions, as I'll note, but not all. As the Brewers' hypothetical totalitarian personnel decision-maker, I map out my own realistic offseason scenario while remaining within the club's economical parameters. First, however, is an examination of where exactly Milwaukee is coming up short.
PAIN POINTS
Less strikeouts offensively
Although unlike the previous two seasons in which Milwaukee set new offensive strikeout records, the Brewers still whiffed more than the vast majority of the league, finishing 2018 with the sixth-worst strikeout rate in baseball. As I have previously pointed out on this marvelous website, fewer strikeouts and postseason success are strongly correlated. The 2018 Red Sox are the latest illustration. While the regular season is a marathon, the postseason is a sprint. Many will point to the obvious in the Game 7 loss, being the mere 2 innings from Jhoulys Chacin and the runs surrendered by Jeremy Jeffress, while the blame should rest on the lineup's 1 run and 14 K's. The Lorenzo Cain and Christian Yelich additions did make the Brewers offense more multi-dimensional throughout the season, and their disappearing acts at times during the playoffs are not things that easily can be prepared for. With some creative roster manipulation, both in-house and elsewhere, the Brewers can cheaply minimize the whiffs without sacrificing OPS, which is the driving force behind the majority of my suggested transactions. A perfect example would be the strict platooning at 1B of Travis Shaw (vs. RHP) and Jesus Aguilar (vs. LHP). Due to Eric Thames' offensive meltdown, Jesus Aguilar was pressurized into everyday at-bats in the middle of the Brewers' order. Aguilar's ideal role as an everyday Major League is as an American League DH. He clearly eroded in the season's 2nd half, with no signs of a second wind in the postseason having never played that number of games. This was particularly transparent in his uncompetitive at-bats against right-handed pitching. Shaw, after a glimmer of hope against lefties in 2017, reverted to habits that booted him out of Boston with at-bats that were likewise ugly and uncompetitive. The beauty of a strict positional timeshare is the ability to secretly replicate star-level production as the Los Angeles Dodgers did so masterfully across the diamond this past year. In a vacuum, based purely off extrapolated 2018 numbers, a Shaw/Aguilar platoon timeshare at first base would have looked as so, compared to how the Brewers' first base position actually fared in relation to the rest of the league. The results are, dare I say, GAUDY.
| | | |
| --- | --- | --- |
| | 2018 (MLB Rank) | Shaw/Aguilar Platoon (MLB Rank) |
| OBP | .343 (9th) | .366 (6th) |
| SLG | .526 (3rd) | .535 (1st) |
| OPS | .869 (4th) | .901 (2nd) |
| BB% | 10.5% (10th) | 13.5% (2nd) |
| K% | 25.7% (27th) | 19.4% (6th) |
More strikeouts from starting staff
While avoiding K's on one end, creating K's on the other should be prioritized. Brewers starting pitchers in 2018 ranked just 20th in baseball in K/9 at 7.65. While I've been vocal since season's end that starting pitching is not this organization's chief preeminence, the Brewers may have an issue they can get out in front of before it ever flares up. Milwaukee starters pitched to an MLB-low .266 BABIP (batting average on balls in play), a number that can largely be attributed to baseball's top overall defensive range by many metrics. Yet, this value is alarmingly low to not assume any convergence will take place in 2019. The most logical resolution would be to avoid allowing balls in play altogether. Corbin Burnes has long been viewed by those within the Brewers organization as not only the team's future ace, but one of the best arms in the bigs. He, along with the hopeful return of 2017 workhorse Jimmy Nelson, ostensibly would ameliorate the situation, in addition to a raffle ticket I'll highlight shortly.
Right-handed power production
An arch nemesis of the Brewers lineup all season was left-handed pitching, which rose to a head against the lefty-dominant Dodgers starting rotation. Travis Shaw, though he homered off Alex Wood, was rendered almost useless for half the NLCS. Large-scale run creation from the right side of the plate came primarily courtesy of Jesus Aguilar, whose regular at-bats eventually became part of the problem.
TRADES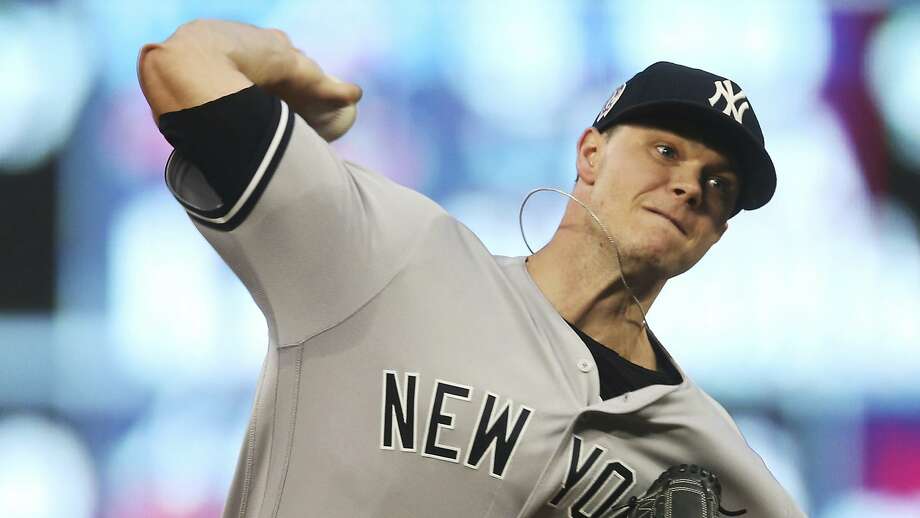 1B/OF Eric Thames to NYY for SP Sonny Gray and Cash
This hypothetical swap would undoubtedly fall into the trades-that-make-complete-sense bucket. It's a 1-for-1 lottery ticket exchange of players with a final year remaining before unrestricted free agency that not only would benefit from the change of scenery, but also would land themselves in ideal situations to capitalize on a contract year. Both Thames, after an abysmal stretch run, and Gray, being relegated to the bullpen, have fallen out of favor in their current homes, so much so that neither was named to their respective team's postseason roster. Buzz has surrounded the Brewers' linkage to Gray for upwards of a year now, mainly due to the presence of Derek Johnson. The Brewers' pitching coach and Gray's former college coach, already with a laundry list of reclamation projects on his resume in a mere three seasons on the job, could be the silver magic bullet for the former first round pick's path to success. Gray was still able to pitch to an 8.5 K/9 in 2018, an aforementioned issue for Brewer starters. Additionally, his 4.17 FIP and the Yankees' at-times sloppy infield defense indicate some misfortune on his part, which is nothing the Brewers, being DRS fiends, cannot solve. Gray is expected to earn approximately $9M in his final arbitration year, while Thames would find himself playing in a ballpark tailor made for his swing.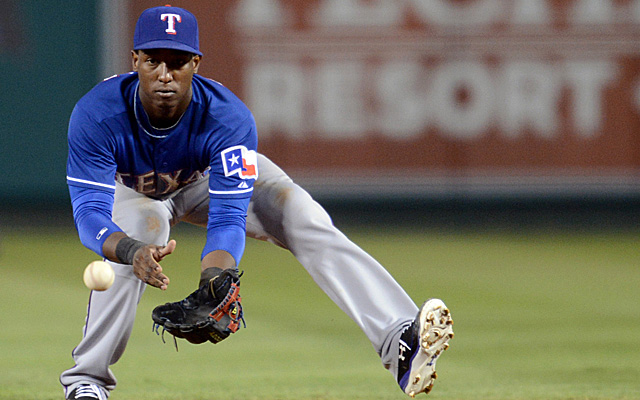 3B Lucas Erceg and IF Dylan Moore to TEX for IF Jurickson Profar
Considering Profar should make in the neighborhood of $3M in 2019 and the fact that the acquisition of his services wouldn't require an outlandish return, the decision to part ways with Mike Moustakas is unpretentious. Profar, based on 2018 numbers, is actually a slight OPS upgrade over Moustakas while prospectively costing $12M less. He's been dangled by the Rangers in potential deals for seemingly 5 years now. At last putting together a fully healthy season, Profar, astonishingly still only 25, displayed vast progression at the plate this season that likely went unnoticed. His 9.1% BB% and 14.1% K% should particularly be attractive to Milwaukee. Another plus? He's a switch hitter with indiscernible platoon splits, positional versatility, two years of club control, and plenty of room to grow.
SP Chase Anderson to SD for RP Phil Maton and OF Buddy Reed
Chase Anderson had a really weird season. His .226 opponents' BA doesn't exactly coincide with a 3.93 ERA, mostly due to an NL-high 30 home runs allowed. All in all, not half bad, but several ERA estimators indicate he was one of the worst pitchers in baseball in 2018. Anderson was unable to maintain his velocity spike from 2017, tried implementing a cutter that became incredibly pervasive to his success, and his changeup's effectiveness went by the wayside. Permitting the long ball was the biggest bugaboo for pre-breakout Chase, so it does not exactly indicate he and Miller Park will continue to mesh if old habits are dying hard. The San Diego Padres find themselves in an intriguing position. It's a franchise crawling out of a deep rebuild, but the Padres' scheme is very close to actualizing, and an Atlanta Braves-esque early arrival is not out of the question. The flyball-heavy Anderson would pitch well to Petco Park's marine layer. In an extremely rough appraisal, eyeballing ballpark factor and HR/FB rates would put Anderson's ERA at roughly 3.30 if half his games were played in San Diego.
FREE AGENT SIGNINGS
SP Wade Miley – 2 years, $15.5M
These were the exact same parameters for Jhoulys Chacin's deal last winter. I believe adding a second year would lock up a return to Milwaukee for Miley. After all, this is the organization the revived his career. Miley's propensity to induce weak contact on the left side of the infield and avoid right field fly balls could be captivating for a team like the Yankees, which would naturally be bad news for the Brewers. However, my gut tells me Miley turns down the larger payday in favor of helping retain Milwaukee's ever-unquantifiable culture.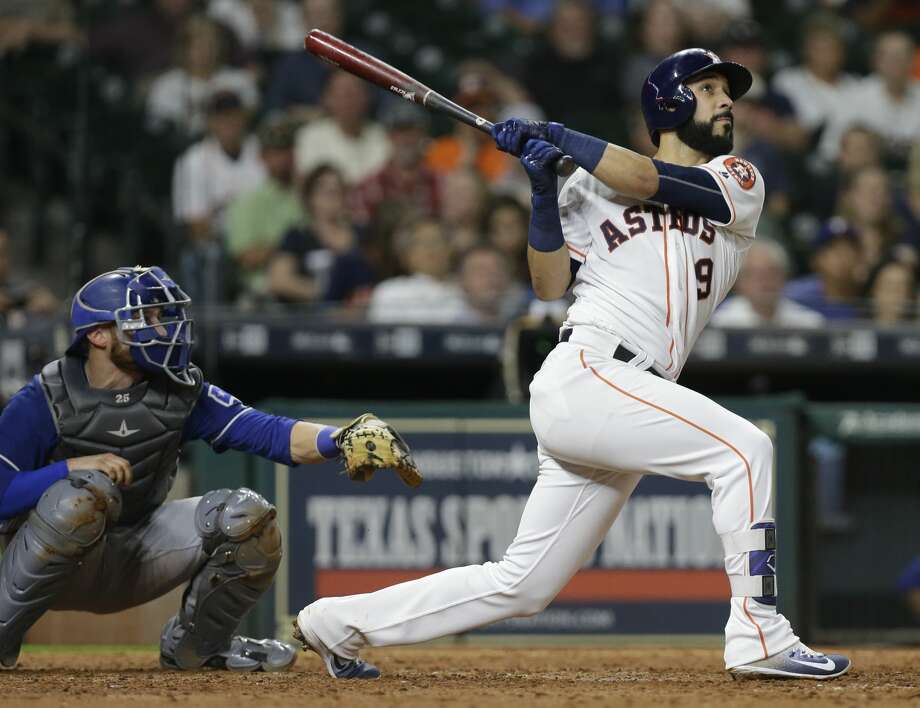 IF/OF Marwin Gonzalez – 3 years, $20M
My ideal heir at second base would be free-agent-to-be Jed Lowrie, but all signs point to a return to Oakland for him. Marwin Gonzalez, on the other hand, more conforms to the defensive maneuverability theme with his ability to play anywhere. His breakout bat in 2017 coerced himself into everyday at-bats, but the Houston Astros only had room in left field. It's been forgotten that Gonzalez is a natural shortstop that has posted only one negative-dWAR season in his career. Either way, as we saw particularly in the second half of 2018, second base is a position the Brewers can successfully hide. Also, Gonzalez's super utility capability could come in handy if a July arrival of Keston Hiura is in the cards.
C Yasmani Grandal – 2 years, $18M
This likely comes to the chagrin of Brewer fans who don't have all the facts. After Grandal's atrocious NLCS, convincing the masses he suffered from a simple case of the yips is an uphill climb. Enter nerd power. Adjusted Fielding Runs Above Average (FRAA Adj) is a holistic metric encapsulating how well a catcher frames pitches, blocks balls, and throws to bases. With a value of 16.3, Grandal, believe it or not, was the best defensive catcher in baseball during the 2018 regular season. In fact, he can be found among the top five of this category each of the past 4 seasons. In reality, separating the signal from the noise, Grandal is remarkably consistent behind the dish. If the Brewers brass is willing to look beyond this noise from recent weeks, his 121 OPS+ from such an offensively-dry position collectively across baseball would be indispensable.
IF Jung Ho Kang – 1 year, $3.5M
Provided he is non-tendered by Pittsburgh, Kang is one of Major League Baseball's ultimate fliers this winter, and I'd prefer to solely speak about what the 31 year old can provide on the diamond. His career .837 OPS has been consigned to oblivion by his South Korean jail detour. The pure-hitting Kang in Milwaukee can range anywhere from an infield insurance policy to a potential All-Star if thrust into an everyday role.
OTHER NOTES
It's reasonable to expect some level of regression offensively from MVP candidate

Lorenzo Cain

. We'll have to wait until 2019 to find out whether or not Cain, entering his age 33 season, actually turned over a new leaf with his plate discipline renaissance after his previous OBP career high was .363. While

Christian Yelich

, on the other hand, has never produced at the level he did in 2018, there's reason to believe his post-ASB eruption is sustainable for the long haul. With a swing so conducive to creating backspin, Yelich, historically an exit velocity darling, learned to elevate the ball more often, resulting in a near-triple crown.

With a plethora of cheaper alternatives on the market, the Brewers have no reason to tender second baseman

Jonathan Schoop

, who is projected to earn $10M in his final year of arbitration. Aside from a 2017 All-Star campaign, streakiness has followed Schoop throughout his professional career, and Milwaukee unfortunately saw that up close and personal. The Brewers acquired the free-swinger in an unnecessary, un-Strearns-like rental deal. This would be nothing more than good-bye and good riddance.

Orlando Arcia

saved his job with a spectacular October performance, but that does not mean his leash entering 2019 can't be short. Sources connected to the Brewers organization say the team once felt

Mauricio Dubon

was the better overall option at shortstop, but a torn ACL has placed those sentiments on hold. Year-in-year-out production from Arcia comparable to his 2017 season would cement himself as a franchise cornerstone.

Middle relief is perhaps the most replaceable aspect of a baseball team.

Joakim Soria

for $10M is a no-go, chief. The $25M saved from Soria and

Mike Moustakas

to walking away from mutual options will be invested in the above free agents and the multitude of controlled players hitting arbitration.

Unfortunately for

Stephen Vogt

, whose career may in fact be over, and

Erik Kratz

, contracts were not tendered in this scenario. Both, of course, have been integral to Milwaukee's clubhouse vibe, but the Brewers cannot reach their aspirations without lengthening their lineup. Kratz cannot offer that, and we're still unsure if Vogt can throw a baseball.

There is likely not room for both

Xavier Cedeno

and

Dan Jennings

on the Brewers' roster in 2019. Both lefty specialists are entering their final year of arbitration expecting to earn the same amount. Cedeno makes the cut here. Whichever doesn't is probably as a result of a non-tender.

Matt Albers

will be released.

Gio Gonzalez

and

Curtis Granderson

will not be re-signed.

Junior Guerra

's late-season success as a multi-inning reliever suggest that is where his future lies. He will be entering his first arbitration year.

In an alternate universe,

Chase Anderson

,

Freddy Peralta

, and

Zach Davies

are all retained at the big league level and the Brewers' postseason pitching staff approach is fully implemented moving forward, with 8-9 "openers" appointed 3-4 innings of work an outing. Manager Craig Counsell, himself, has openly stated this is a possibility. The difficulty of maintaining such a philosophy for 162 games goes without being said. Davies may fall victim to a lack of available real estate, while Peralta's command and third pitch need sculpting, landing both in AAA.

This scenario's transactions are not the flashiest, but they will more consistently create runs. No singular needle-mover exists on the market at a reasonable cost for the Brewers this offseason. Milwaukee's needle-mover lies within its own organization. Top 5 prospect

Keston Hiura

's hit tool is about as advanced as they come for a player his age. The second baseman could be on track to arrive in late-June/early-July of 2019. Based on what we've seen from his plate approach and spray charts, Jose Altuve-type production at the big league level in the near future is a plausible expectation.
FINAL ROSTER PROGNOSIS
| | |
| --- | --- |
| LINEUP | PITCHING STAFF |
| CF Lorenzo Cain | SP Jhoulys Chacin |
| RF Christian Yelich | SP Wade Miley |
| LF Ryan Braun | SP Corbin Burnes |
| 1B Travis Shaw/Jesus Aguilar | SP Sonny Gray |
| C Yasmani Grandal | SP Jimmy Nelson |
| 3B Jurickson Profar | LRP Junior Guerra |
| 2B Marwin Gonzalez | MRP Jeremy Jeffress |
| SS Orlando Arcia | MRP Xavier Cedeno |
| BENCH | MRP Taylor Williams |
| C Manny Pina | SU Josh Hader |
| 1B Travis Shaw/Jesus Aguilar | SU Brandon Woodruff |
| IF Jung Ho Kang | CP Corey Knebel |
| IF/OF Hernan Perez | |
| OF Domingo Santana | |